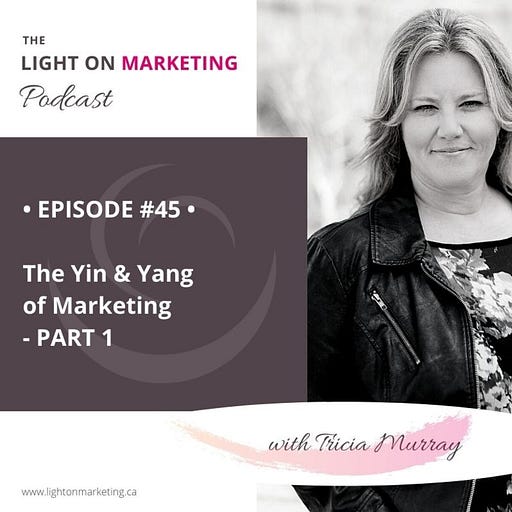 Mar 3 • 22M
PODCAST • The Yin & Yang Of Marketing - Pt. 1
Light on Marketing...more on rediscovering our Creator Soul inside the work/career/business and across a Life 360º.
Come with a beginner's mind and consider that there are two sides to Marketing – the science and the spiritual side; just like the symbol of yin and yang.
In this episode I reframe Marketing through the ancient symbol of Yin and Yang and invite you to consider the 'daily doing' – your Marketing activities and tactics based on the energy they embody.
It's a different way of thinking about Marketing and that's what Light on Marketing is all about!
When we reframe, redefine, recalibrate and realign how we see and understand Marketing – we RESTORE our ability to use it more effectively! (and that lets Marketing feel lighter) In this episode:
Learn more about accessing your YIN side:
→ Barbara Edie • www.barbaredie.com
---
The Creator Soul Journal is a collection of Contributors casting a vision for what happens when we expand our thinking to amplify our journey, and share pieces with others along the way.  You'll find souls who are creating more in their health, wealth, meaning and love; through their relationships, businesses, communities, science and spirituality and more.
If you found something resonated with you, we'd be delighted if you would  SHARE or SUBSCRIBE!
Get a weekly email with the Featured post!
Get social with us! • Leave a comment •
Find us on: • Telegram • Instagram •
---
Connect with Tricia @ Light on Marketing
---
Explore how you can contribute your unique content to Creator Soul Journal!
Direct Message our Soul Director, Tricia Murray for more details.